Recruiting @ NWC
Become a Red Raider, and our winning coaches will help you reach your peak as an athlete—but the challenge won't end there. Your training and performance expectations in the classroom will be equally rigorous. And your Christian coaches and teammates will challenge you in your faith, making you stronger for life.
Raider tradition
As a member of the Great Plains Athletic Conference (GPAC), Northwestern competes against colleges with similarly high-caliber programs in the NAIA. Conference teams have won 20 national championships since the league's inception in 2000. Seven belong to the Raiders. In one of those rare moments in sports history, both our men's and women's basketball teams won national crowns on the same night in 2001. The men's team repeated as national champs in 2003, and the women, in 2008, 2010, 2011 and 2012.
Coach approach
Raider coaches love winning—and they encourage balance between sports, academics and involvement in campus life. They preach success through teamwork—and they take the time to nurture each individual player on and off the field. They will push you to be the strongest athlete you can be, and they will hold you accountable for developing your brainpower as well. To your Raider coach, you'll be not just an athlete, but a person with unique talent and potential. They'll celebrate what you do in the athletic arena, but their real goal is that you take those character-building lessons and use them to live a faithful life.
Winning wisdom
The integration of faith with learning and living you receive at Northwestern will result not just in a head full of knowledge, but a heart full of wisdom too. You'll be challenged in the classroom, through relationships, as you serve, and on the field, court, course, mat, diamond and track. As a Northwestern student-athlete, you'll learn discipline, commitment and self-sacrifice. You'll be ready for the next game—and the rest of your life.
NAIA. Game on.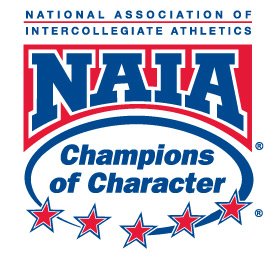 As an NAIA institution, Northwestern College is dedicated to the five core character values of the NAIA and is committed to: Respecting our opponents, fans, officials, and coaching staffs; Teaching our athletes the value of responsibility; Modeling integrity in our daily lives; Promoting opportunities to serve in our community and campus; and Portraying sportsmanship by holding our athletes to the highest standards of fair play.