Zach Fishman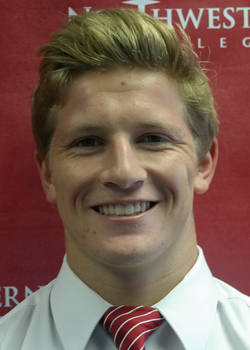 Zach Fishman is our newest Raider on the Radar. He is a redshirt junior on the Red Raider wrestling team and is also a team captain. Fishman spent his redshirt season competing unattached and compiled a 14-4 record, with one of those wins coming against an NAIA national runner-up.
Fishman is a three-time national tournament qualifier. Last season, he finished with a record of 29-8 with nine pins. Fishman also earned First Team All-GPAC honors and qualified for the national tournament, and he was named an Academic All-American.
Zach is a Business Finance/Sociology major and is minoring in Psychology. He is from San Clemente, California.
Why did you choose Northwestern?
I think there were really two big reasons behind coming to Northwestern. My cousin attended here and was a year ahead of me, and we have always been very close. That, along with the fact that when I came on my visit I meshed with the wrestling team very well.
So far, what has been the best part of your Northwestern College experience?
I would probably say some of the best parts of my NWC experience have been bonding with my teammates over long road trips and the friendships that I have made along the way
What makes Orange City a great place to be?
Well, there is always the donut shop! But, in reality, Orange City is a great place to be because of the homey atmosphere that it provides and how nice the people are here. It is a lot different than what I grew up with in California.
What is something that makes your team special or unique?
I think the bond that we all share with each other is unique. Whether we are in the room practicing or playing ultimate Frisbee, we are a pretty tight knit group.
What's the best part about competing in the GPAC?
I would say the best part about competing in the GPAC is the competition and rivalries that it brings. I always feel that I get more hyped up when I am going to wrestle someone in our conference than someone from another conference or school.
What advice would you give a high school athlete looking to compete collegiately?
I think one of the biggest things to do before looking to compete collegiately at a school is to make sure you fit into the school that you want to attend. But after you realize that, you need to be ready to make a commitment to that team because it will be your life for the next 4-5 years.
What advice would you give the freshmen on your team?
If I were to give advice to the freshman on our team, it would probably be to stay the course. The race is never won at the beginning… It is a long process (and I can attest to that).
Who was your biggest role model growing up?
My biggest role model growing up was definitely my mom. I could always go to her when I needed things, and she was always there for me when I needed it the most.
What's your favorite pre-game/pre-meet meal?
Well, after we make weight I usually have a blueberry bagel with strawberry cream cheese.
Favorite movie?
Any Sylvester Stallone or Adam Sandler movie
Favorite book?
The Road by Cormac McCarthy
Favorite TV show?
Prison Break or Breaking Bad
What are your hobbies outside of your sport?
I enjoy spending time with family and going to the gym. When I am home, I go to the beach almost every day.
Favorite place you've visited?
New York City
What was your first job?
I was a "model" at Hollister, but nobody needs to know that.
What is your dream job?
I would love to get a job on Wall Street and live in some million dollar loft in New York City, but who knows if that will ever happen.