Whitney Vander Maten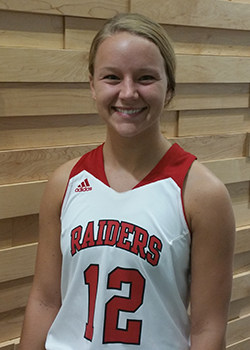 As a junior last year, Vander Maten played in all 29 games and started in four games. She averaged 5.0 points and 3.6 rebounds while earning NAIA Scholar Athlete honors.
Whitney is from Boyden, Iowa, and will graduate in May with a degree in Elementary Education.
Why did you choose Northwestern?
I chose Northwestern because I am from the area and liked the idea of a small, Christian college that was near home. I am very close to my family, so the proximity was a huge benefit because I would be able to be around more to see my nieces and nephew. I was unsure of what I wanted to major in when I came to Northwestern, and Northwestern really helped me discern what I wanted to major in.
So far, what has been the best part of your Northwestern College experience?
The best part of my Northwestern College experience has definitely been growing in my faith. At Northwestern, I have grown tremendously in my faith walk. I will forever be thankful for Northwestern's role in pushing and encouraging me in this area of my life. Another part that has been amazing is the friends I have met through basketball and in classes. I have many friendships that I know will last a lifetime.
What makes Orange City a great place to be?
Orange City is a great place to be because it is small and tight-knit. I enjoy being able to walk to local restaurants, the movie theater, etc., with my friends on a Friday night. I love the friendliness of Orange City and the welcoming environment.
What is something that makes your team special or unique?
Something that makes my team special is the team chemistry. This year, we have a great group of girls that are really tight-knit and enjoy not only playing together but being friends off the court, as well. This year, we have a very young team and it is neat to see relationships grow and develop—with each other and with the Lord.
What's the best part about competing in the GPAC?
Competing in the GPAC is a competitor's dream. There isn't one game that you can just show up to, not fully mentally or physically prepared, and expect to win. The teams are all immensely competitive and talented. This is huge because it teaches us to never take a game for granted and really prepares us for postseason play.
What advice would you give a high school athlete looking to compete collegiately?
I would give a high school athlete the advice to keep things in perspective. When you come to college, your college experience isn't fully about the sport. Although you put hours upon hours into your sport, it isn't what is most important. Take the time to explore other things, develop relationships, try new things, etc. I would tell any high school athlete looking to compete collegiately to work their hardest and give it their all, but to not get lost in the sport. I would encourage them to keep life in perspective and strive to find the proper balance in relationships, their faith, family, sports, and academics.
What advice would you give the freshmen on your team?
The advice I would give the freshmen is to just relax and play. Enjoy it while it lasts. Collegiate sports can become a mental battle, and it is most fun to just play – to not worry too much and just trust that as long as you are giving it your very best, you can be proud of yourself. Don't worry about the world's definition of success too much. Just do your thing and be the best teammate you can be—whatever that looks like.
Who was your biggest role model growing up?
One of my biggest role models growing up was my grandma Vander Maten. She is one of the most kind and most giving women I know. I spent a tremendous amount of time at her house through my childhood and she has made a lasting impact in my life. My other biggest role model is my mom. I hope that I can be the type of mother, wife, and friend that my mom has displayed for me. I've been blessed to be able to learn from the best.
What's your favorite pre-game meal?
Chicken and rice and a banana
Favorite movie?
The Hunger Games trilogy—for sure
Favorite book?
This is a tough one—I love to read. I would probably have to say The Hunger Games books here, as well.
Favorite TV show?
Cupcake Wars or any show on HGTV
What are your hobbies outside of your sport?
I enjoy spending time with my friends and family, making crafts, reading, and baking.
Favorite place you've visited?
Vero Beach, Florida! You can't beat the ocean.
What was your first job?
My first job was babysitting as a high schooler.
What is your dream job?
Since I am about to graduate with an education degree, I should say that my dream job is to be a teacher. But in all honesty, my dream job is to be a stay at home mom and own an in-home cake and cupcake business.