Tyler Janota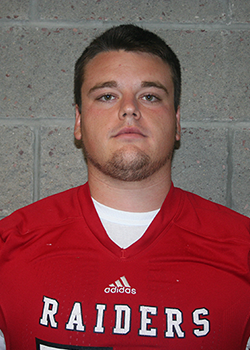 This week's Raider on the Radar is senior football player Tyler Janota. In 2012, Janota started eight games along the offensive line, helping pave way for the highest scoring offense and fifth best rushing and total offense in the NAIA.
Tyler is a Goliad, Texas native. He is majoring in Exercise Science, with a concentration in Strength and Conditioning.
Why did you choose Northwestern College?
I chose NWC because of the competitive athletic programs, as well as a chance to live in a different part of the country for my college career.
So far, what has been the best part of your NWC experience?
It's a tie between beating Morningside College last season and getting to know all of the awesome teammates, classmates, faculty, and community members the last four years.
What makes Orange City a great place to be?
It's a quiet, intentional, and active community.
What is something that makes your team special or unique?
With such large group of men, I've gotten the privilege to meet hundreds of different guys from all around the country. We always have a good time and always take care of each other. Likewise, our coaches make things fun and they truly care about the well-being of the person under the pads.
What's the best part about competing in the GPAC?
The best part about competing in the GPAC is the perfect distance between the teams and the way each team's players conduct themselves. Also, the rivalries and competitive nature of every game keeps things exciting.
What advice would you give a high school athlete looking to compete collegiately?
Find a balance between a good academic and athletic fit. Likewise, train hard and don't settle.
What advice would you give the freshmen on your team?
Train hard, make every day count, embrace the struggle, and stay humble.
Who was your biggest role model growing up?
My mother, Claudine Janota, is by far my biggest role model for raising me into the person I have become.
What's your favorite pregame meal?
Oatmeal and eggs
Favorite movie?
Night At the Roxbury
Favorite book?
The Way of the Peaceful Warrior by Dan Millman
Favorite TV show?
It's Always Sunny in Philadelphia
What are your hobbies outside of your sport?
Coaching in the weight room, and doing anything by the water
Favorite place you've visited?
Now, visiting my Hometown of Goliad, TX is the best place I've ever traveled to.
What was your first job?
Building fence with one of my good friends and his father
What is your dream job?
Working with athletes who are passionate about their training and sport