Tukker Bogaard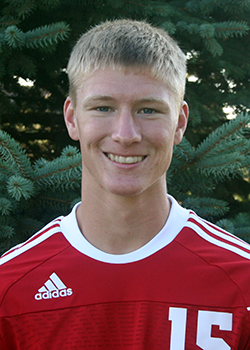 Tukker Bogaard is this week's Raider on the Radar. Bogaard is a junior on the men's soccer team. In this season's opening match against Trinity Christian, Bogaard assisted on the only goal of the match, giving Northwestern a 1-0 victory. As a sophomore last season, he started twelve games for the Red Raiders, scoring two goals and recording three assists.
Tukker is a Pella, Iowa native, and he is majoring in Actuarial Science and Economics.
Why did you choose Northwestern?
I chose NWC because it had all of the features I was looking for. Most small colleges don't have the Actuarial Science major, and being able to play competitive soccer helped a lot, as well.
So far, what has been the best part of your Northwestern College experience?
My favorite part is the people. Having good relationships with professors makes the academic side of college fun. Quality friends from my dorm and the soccer team provide an atmosphere where a lot of good memories have been made during the college years.
What is something that makes your team special or unique?
Our team has some unique traditions and post-game celebrations.
What's the best part about competing in the GPAC?
GPAC competition gives me and my teammates a chance to play high-caliber soccer but have fun at the same time. We know we're not professionals, but we enjoy working hard to improve together.
What advice would you give the freshmen on your team?
I would recommend that freshman keep a bigger perspective in mind with sports. For our first week at college, all we do is soccer-related. Then everything else starts up, so it's key to be responsible and work hard on and off the field.
Who was your biggest role model growing up?
Donald Driver- go Packers!
What's your favorite pregame meal?
Subway
Favorite movie?
Memento
Favorite book?
Unbroken by Laura Hillenbrand
Favorite TV show?
Friends
What are your hobbies outside of your sport?
Skiing, biking, hunting, and of course tandem bike rides with teammate Zachary Schornack
Favorite place you've visited?
Baja, Mexico
What was your first job?
Concrete construction - building basements
What is your dream job?
Ice cream taste-tester