Taylor Francis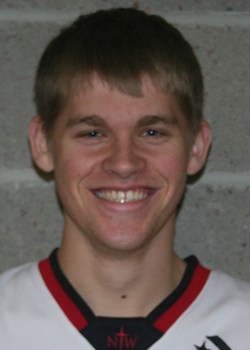 This week's Raider on the Radar is Taylor Francis. Francis is a junior on the men's basketball team. He has started all 26 games this year for the Raiders and is shooting nearly 53% from the field. Francis is averaging 8.8 points, 3 rebounds, and 2.7 assists on the year.
Taylor is from Hull, Iowa, and is majoring in History (pre-law).
Why did you choose Northwestern?
I liked the location and the people. It seemed like a place where people genuinely cared about you and wanted to help you succeed. I also liked the fact that I wasn't too far away from my family and could see them whenever I wanted.
So far, what has been the best part of your Northwestern College experience?
Getting to know the rest of campus. From students to coaches and faculty, there have been a lot of people I have had the privilege of meeting in my time here who have had a positive impact on me. I really appreciate the way that people on this campus make you feel important no matter who you are and what you do.
What makes Orange City a great place to be?
Orange City is a great place to be because of the way that people treat other people here. There is a very noticeable effort to make everyone feel welcome and like they are part of the community.
What is something that makes your team special or unique?
Our team is full of guys who have a lot of unique roles and situations within the team structure, but we still find a way to enjoy showing up and working together in the good times and the bad times. We have some young players who are asked to do a lot and some older guys who are asked to show them the way. Even though the results aren't always perfect, the guys continue to make an effort to learn and never complain no matter how hard it can become.
What's the best part about competing in the GPAC?
The best part about competing in the GPAC is also the hardest part about competing in the GPAC. The level of competition is unlike any other NAIA conference in the country. Anyone can beat anyone on any given night. It makes for a crazy season. I remember a point in the season where we had 4 weeks in a row playing against top ten teams in the country. Opportunities like that are something you love to have as a player. It really teaches you just how important every play is and sometimes you learn the hard way, but you appreciate the fact that it makes you a better team.
What advice would you give a high school athlete looking to compete collegiately?
Learning to play on a team full of high school stars is difficult. You have to learn to check your ego at the door and come to work every day for the guys around you.
What advice would you give the freshmen on your team?
Keep learning and keep growing. Things aren't always perfect, and you don't want them to be. If being successful was easy, then anybody could do it. The difficulty is what makes your successes rewarding when you get them.
Who was your biggest role model growing up?
I looked up to a couple people as basketball players and as role models in life. My dad was the most obvious one because of the way he raised me. I always wanted to be just like him growing up. The other role model in my life probably didn't know he was one and I don't think I've ever told him, but Ryan Hoogeveen had a huge impact on me. He played at Boyden-Hull and Northwestern before me and I grew up with him as a neighbor and spent a lot of time with him. I always thought he was the best at everything. He was kind of like the older brother I never had.
What's your favorite pre-game meal?
I used to love grilled cheese before every game back in high school.
Favorite movie?
The Batman Dark Night Trilogy.
Favorite book?
Toughness by Jay Bilas
Favorite TV show?
SportsCenter
What are your hobbies outside of your sport?
Anything where I can hang out with my friends
Favorite place you've visited?
Veterans Memorial Auditorium (the place where the Iowa State Basketball Tournament used to be held)
What was your first job?
Installation in hog buildings
What is your dream job?
Working as a lawyer