Skyler Wheeler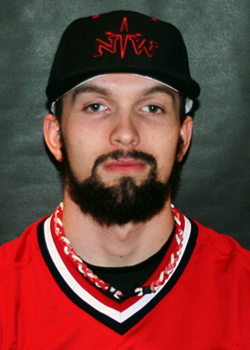 The final Raider on the Radar of the year is senior baseball player Skyler Wheeler. Last season, as a junior, Wheeler received Second Team All-GPAC honors at first base. This season, he has started 46 games for the Raiders and is hitting .382 on the year. Wheeler has driven in 36 runs and has hit 12 doubles and 5 home runs this season.
Skyler is a Political Science major and is from Chehalis, WA.
Why did you choose Northwestern?
I wanted to play for a winning baseball program, and I already had a friend out here on the baseball team (Erik Widener), which made the transition easier.
What has been the best part of your Northwestern College experience?
Playing baseball, by far. I love my teammates and my coaches, and I also love winning, which we've done a lot here.
What makes Orange City a great place to be?
Very friendly people and a safe town.
What is something that makes your team special or unique?
We are a close group…we are around each other all the time, and we all know each other well. I'd be willing to bet we are the closest group when it comes to the sports teams on campus.
What's the best part about competing in the GPAC?
Gunning for teams that beat you the year before (Doane and Midland, for example). It's a close conference, and it results in some intense games.
What advice would you give a high school athlete looking to compete collegiately?
Work as hard as you can in high school both academically as well as in the weight room. Be coachable, get good grades, and the rest will take care of itself - even if you're not a star.
What advice would you give the freshmen on your team?
Don't waste a year. It goes by fast. It's very eye-opening to go into your last season, when just a few years ago I was a freshman, too, and didn't think my senior season would come so quickly.
Who was your biggest role model growing up?
My father. He is the greatest man I know, and I've wanted to model myself after him.
What's your favorite pre-game/pre-meet meal?
I don't have something specific…I usually eat whatever is given to me!
Favorite movie?
The Patriot
Favorite book?
It would be The New Answers Book, Volume 1
Favorite TV show?
Arrow
What are your hobbies outside of your sport?
I love following politics as well as studying Biblical apologetics.
Favorite place you've visited?
Washington, D.C.
What was your first job?
Worked for my brother's pizza place when I was 15
What is your dream job?
It'd have to be a head baseball coaching job at a college, as well as being a political science professor there, too. If that doesn't work, something involved in politics would be awesome.