Ryan Weitgenant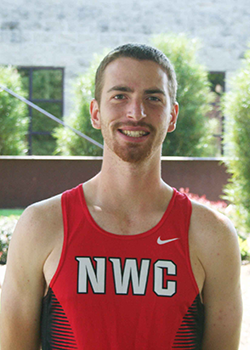 Ryan Weitgenant, a senior on the cross country team, is this week's Raider on the Radar. As a junior last year, Weitgenant ran in five races for the Red Raiders. So far this season, he has competed in three meets. Weitgenant finished 134th out of 266 runners at the Augustana Twilight Meet and 34th out of 99 runners at the Herb Blakely Invite. Most recently, he tied his career-best 8K time at the Briar Cliff Invite with a time of 27:38, finishing 80th out of 196 runners.
Ryan is from Hills, Minnesota, and is pursuing a major in Actuarial Science.
Why did you choose Northwestern?
Northwestern had a great actuarial science department, it was somewhat close to home (only one hour away), my sister had just graduated from NWC, and there was a great opportunity to be able to continue running.
So far, what has been the best part of your Northwestern College experience?
Being able to make the trip down to Gulf Shores, Alabama, for Outdoor Track Nationals
What makes Orange City a great place to be?
I like the small-town feel that Orange City provides, and I feel like Northwestern College is a special place - which makes Orange City a great place to be.
What is something that makes your team special or unique?
The pack mentality of our team is an important part of what makes the NWC cross country team what it is. It is really special how we are able to work together and know that if we finish right in front of or directly behind one of our teammates, then the score sheet will say Northwestern and then Northwestern (and not our specific names), which is what is important.
What's the best part about competing in the GPAC?
The GPAC provides great competition. That is shown by the number of runners that make it to nationals as well as how well the GPAC runners generally place on the national level.
What advice would you give a high school athlete looking to compete collegiately?
Lifting is more beneficial than you think. And it is important to make your "hard" workout days hard and your "easy" workout days easy so that you are able to recover.
What advice would you give the freshmen on your team?
Injury-prevention is a key to success. It sounds weird, but a lot of freshmen come in working hard to a fault, and as a result they often get injured towards the middle or end of the season.
Dale Thompson, a now retired Northwestern assistant cross country coach, once said, "You have to earn the right to train hard."
Who was your biggest role model growing up?
Tom Goehle, who was my cross country coach as well as a teacher and leader of the FCA at my high school - he was my biggest role model.
What's your favorite pre-race meal?
Chicken alfredo and a peanut butter sandwhich is the best part of the night-before-the-race meal.
Favorite movie?
The Other Guys
Favorite book?
Night Hoops by Carl Deuker
Favorite TV show?
Parks and Recreation
What are your hobbies outside of your sport?
Ultimate frisbee, watching movies, playing video games
Favorite place you've visited?
Gulf Shores, Alabama (For Outdoor Track Nationals)
What was your first job?
Painting propane tanks
What is your dream job?
I am not exactly sure, to be honest, but maybe working with credit risk for a bank or credit card company.