Ryan Christy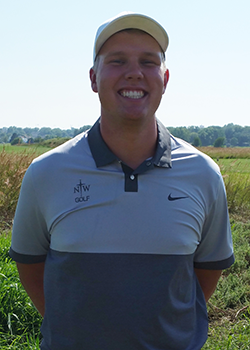 Our newest Raider on the Radar is Ryan Christy, a junior on the men's golf team. Christy has finished in the top ten at four events this year. His best finish, with one event remaining, is a tie for 5th place at the Northwestern Invite. Christy is currently ranked 4th on the team with a 77.4 scoring average. He recorded a season-best 71 at the Siouxland Invite in September. As a sophomore last year, Christy played in 11 events and recorded two top-ten finishes.
Ryan is from Orange City and is pursuing degrees in Sport Management and Business Administration.
Why did you choose Northwestern?
I chose Northwestern because it was a great all-around fit for me. I really wanted to play college golf at a championship-caliber level, and Coach Aberson was beginning to develop a strong program. In addition to athletics, I wanted a strong academic program that would challenge me. The Christian atmosphere was attractive for building my relationship with Jesus and others.
So far, what has been the best part of your Northwestern College experience?
It's hard to pinpoint one thing being the best part of NW because it has so many things to offer, but I have really enjoyed the residence life. Living with guys in the dorm is awesome. I have really enjoyed the emphasis on including everyone, no matter their interests.
My golf experience has been awesome, as well. We've already been to Whistling Straits (Site of 2015 PGA Championship), Daytona Beach for national tournament 2015, Las Vegas, Arizona (spring break trips), and TPC Deere Run (Home of PGA Tour event John Deere Classic). I wouldn't trade my athletic experience for anywhere else!
What makes Orange City a great place to be?
Orange City is a great place because of the local support for the college. Lots of community members get involved with events.
What is something that makes your team special or unique?
As a golf team, we are pretty small in numbers, so I really appreciate how great of friends we become. Our team tries to do things together on a regular basis outside of just golf. We like to practice together outside of normal practice time, and we always eat supper together every day in season. We pride ourselves in the way we act on and off the course.
Oh yeah...and the level of sarcasm on our team could be matched by no one else!
What's the best part about competing in the GPAC?
The best part about competing in the GPAC is the competition. We must put in the hard work to get the results. Also, the format of the GPAC tournament always allows the best team each year to win because it's spread out over the entire year, not just one event in the spring.
What advice would you give a high school athlete looking to compete collegiately?
Your commitment level has to go up a notch. It is not easy to succeed in college. Your freshman year will be hard because of the adjustment period, but sticking with it is key. Do not give up on your passion for the game! Balancing academics with athletics can be hard, but it is worth it.
What advice would you give the freshmen on your team?
Work extremely hard and be humble. Upperclassmen do not appreciate when freshman come in thinking they know everything. Be patient, your time will come eventually. If you rely on just your talent, you will get passed by incoming freshman the next year who want it just as much as you. Don't quit just because you aren't playing. It can be a great learning experience.
Who was your biggest role model growing up?
My biggest role model was my dad. The way he acts in every situation showed me how much he cared about his personal relationship with Jesus Christ. He also taught me how to golf, starting at age four.
What's your favorite pre-match meal?
Breakfast food (Eggs, hash browns, pancakes)
Favorite movie?
Anything Marvel. I've seen like every Marvel movie and TV show.
Favorite book?
The Matheny Manifesto
Favorite TV show?
Marvel's Agents of S.H.I.E.L.D.
What are your hobbies outside of your sport?
Student-coaching basketball, watching movies with friends, hanging out with my girlfriend
Favorite place you've visited?
Colorado. There is nothing like experiencing God's beauty in the mountains.
What was your first job?
Bag staff at Landsmeer Golf Club
What is your dream job?
General Manager of the St. Louis Cardinals