Payton Samuelson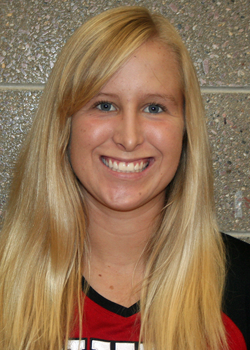 Payton Samuelson is this week's Raider on the Radar. Samuelson is a junior middle hitter on the sixth-ranked Red Raider volleyball team. She earned honorable mention all-GPAC honors as a sophomore last year, averaging one kill and nearly one block per set.
This season, Samuelson has already recorded 112 kills, for an average of 1.53 per set, while also averaging almost one block per set.
Payton is a Gretna, Nebraska, native and is an Elementary Education major.
Why did you choose Northwestern?
I chose to come to Northwestern because it was a place where I knew I would receive a great education in the teacher education program, a place where I could grow in my faith, and a place where I could grow in my athletic ability and be a part of a wonderful team. It just felt like home on my first visit.
So far, what has been the best part of your Northwestern College experience?
The best part of my NWC experience is just getting to know people and live life with them. I have met so many people from so many different backgrounds through classes, volleyball, living in the dorms, and random campus events.
What makes Orange City a great place to be?
Orange City is a great place to be because there is so much support from the community whether that is through churches, meals, or attending games on a regular basis. The community is authentically interested in Northwestern students.
What is something that makes your team special or unique?
I think something that makes the volleyball team unique is how we just really enjoy being around each other. We may not all see each other very often outside of volleyball, but when we get together there is an automatic feeling of belonging.
What's the best part about competing in the GPAC?
The best part about competing in the GPAC is the skill level of the teams. Every team is good and plays hard every time. I think the fact that more than one GPAC team made it to Nationals last year speaks for that competitiveness and skill level. The other teams make us better every time we play them. No team is going to be easy. They all make us work on different aspects of the game.
What advice would you give a high school athlete looking to compete collegiately?
My advice would be to find a school and athletic program where you feel like you would be pushed to improve and where you feel like you can be a part of a team that promotes authentic relationships between teammates on and off the court.
What advice would you give the freshmen on your team?
My advice to freshmen would be to push yourself and your teammates to be the best you can be. You never know your full potential until you put in your full effort and determination to reach that potential.
Who was your biggest role model growing up?
My mom was definitely my biggest role model growing up, and she still is. She is always supportive in everything I do. She also has taught me that nothing is worth half-doing. If you are going to do something, do it to the best of your ability and give it all you have.
What's your favorite pregame meal?
Pasta, salad, and chocolate millk
Favorite movie?
I don't have a favorite specific movie, but I like romantic movies or action movies.
Favorite book?
Don't have one…
Favorite TV show?
Either Downton Abbey or Law and Order: SVU
What are your hobbies outside of your sport?
Hanging out with people, watching movies, playing with children
Favorite place you've visited?
Perpetuo Socorro/ km3, Dominican Republic on a mission trip
What was your first job?
Babysitting
What is your dream job?
Preschool teacher