Nick Null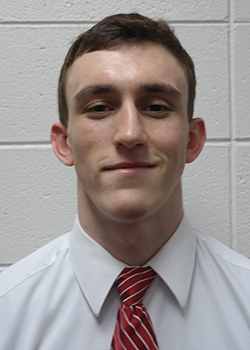 Nick Null, a sophomore on the wrestling team, is the newest Raider on the Radar. Early in the season, Null won the Gold Division 197 lb. weight class at the Auggie-Adidas Open at Augsburg College. He also earned a key win, after being moved up to the 285 lb. weight class, in the Raiders' thrilling upset victory over Morningside. Throughout the season, Null compiled a record of 22-8 and was ranked as high as 11th in the NAIA.
The Red Raiders finished the regular season tied for 2nd place in the GPAC, the best finish for Northwestern since the GPAC started sponsoring wrestling in 2006-07. The Raiders wrestle next at the NAIA North Qualifier in Seward, NE, on Feb. 20.
Nick is a Sport Management major and is from Plattsmouth, Nebraska.
Why did you choose Northwestern?
I transferred from the University of Nebraska. My older brother goes here, and Coach Dahl is an incredible guy and I really wanted to compete for him.
So far, what has been the best part of your Northwestern College experience?
Meeting new friends that have challenged me to become a much stronger Christian
What makes Orange City a great place to be?
The tight-knit community
What is something that makes your team special or unique?
I have wrestled for 3 different colleges, and no team that I have been on has had the type of bond that we do here. Our team is all very close and no one is left out.
What's the best part about competing in the GPAC?
Getting to wrestle against other faith-based schools
What advice would you give a high school athlete looking to compete collegiately?
Be prepared to work harder than you ever have, stay caught up on school work, and remember to have fun and remember why you love the sport.
What advice would you give the freshmen on your team?
College wrestling is a whole new level compared to high school. You have got to be tough and you need to learn how to lose and turn it into a learning experience rather than looking down on yourself and dwelling on that loss.
Who was your biggest role model growing up?
I really looked up to my dad. He was the hard-nosed kind of guy that I wanted to wrestle like. He has an incredible work ethic. He had myself and my four siblings before he was 25 years old and provided a great life for us without a college degree.
What's your favorite pre-match meal?
I like to eat pasta. It's a great energy source.
Favorite movie?
"Lorde of the Flies"
Favorite book?
"One Thing You Can't Do In Heaven" by Mark Cahill
Favorite TV show?
Usually I only watch TV if wrestling is on the Big10 Network.
What are your hobbies outside of your sport?
Wakeboarding, Mt. Boarding, Hiking, Camping
Favorite place you've visited?
Cenotes in Progreso, Mexico
What was your first job?
Picking up scraps of wood and sweeping at my father's construction site
What is your dream job?
Pastor or some sort of missionary working with troubled and abused teens