Nate Huyser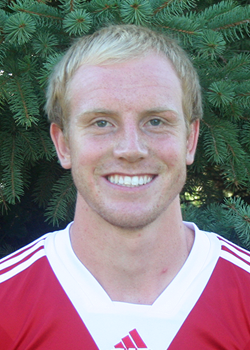 Nate Huyser, a junior on the Red Raider men's soccer team, is this week's Raider on the Radar. During his sophomore season last year, Huyser started all 20 games and scored three goals. This season, he has started all 14 games for the Red Raiders and has scored two goals and recorded two assists.
Nate is from Omaha, Nebraska. He is a Biology/Health Professions major with a pre-physical therapy focus.
Why did you choose Northwestern?
I chose Northwestern because it had all of the qualities I was looking for. I wanted a small, Christian college that was strong academically and that had a high level soccer program. Northwestern met all of these criteria. It helped, as well, that Northwestern became an affordable option when the scholarships came through.
So far, what has been the best part of your Northwestern College experience?
Learning has been the best part of my NWC experience. While I have certainly learned a lot in my classes and how to be a better soccer player, more importantly I am learning how to be a better person. There are so many wonderful people here who are great role-models whether they are friends, coaches, teachers or pastors. They certainly rub off on you. In addition, with Christ at the center of everything we do at Northwestern, you really are getting an eternal education. You learn things every day that are far more important than anything earthly.
What makes Orange City a great place to be?
I have a lot of family in Orange City, so it has always been a special place to me. The people that you meet here are indeed special. You will meet friends, mentors, and mentees that will last a lifetime. In addition, it is just such a tight-knit community with many qualities that I will try to instill anywhere I live in the future.
What is something that makes your team special or unique?
The culture that our team has fostered is something that I have never experienced on any other athletic team in my life. It is such a fun and positive environment to play in. In general, we have lots of enthusiasm when we play and encourage each other constantly. When there are disagreements, we always get it figured out as soon as possible and never let it leave the field. Also, there are no divisions within the team. Whether you are a freshman, senior, JV, varsity, starter, or non-starter we are all brothers and one team.
What's the best part about competing in the GPAC?
The GPAC is a fun conference to be a part of. There are some high quality teams, and it seems like every game is quite a fight no matter who you are playing. In addition, we have developed some good rivalries over the years with several teams in the conference, which always makes it more enjoyable.
What advice would you give a high school athlete looking to compete collegiately?
Collegiate athletics are a great opportunity to use the talents that you have been given and to grow as a person. When you look for a college to play at, don't only look at how successful a team is on the field, but also what the culture of the team is like. It is much more fun and beneficial for development to play on a team that fosters enthusiasm and an encouraging environment.
What advice would you give the freshmen on your team?
Strive for excellence in everything you do, including athletics, academics, and your character. Mediocrity is easy to obtain and anybody can do it. As we have heard before, think about how you can leave Northwestern after four years and make it a better place than when you arrived.
Who was your biggest role model growing up?
My parents will always be my most influential role models. They have modeled God-honoring lifestyles and have instilled in me the work ethic that I have today. However, Derek Jeter has always been my biggest athletic role model. I admire his leadership, his humility, and the fact that he has stayed out of much of the negative talk surrounding baseball in the steroid era.
What's your favorite pregame meal?
A salad and a banana with peanut butter
Favorite movies?
The Batman Series, Hoosiers, Remember the Titans
Favorite book?
The Kite Runner
Favorite TV show?
The Walking Dead
What are your hobbies outside of your sport?
Watching soccer, working out, and reading about anything physical therapy/sports performance based
Favorite place you've visited?
Rio de Janeiro, Brazil
What was your first job?
A facility attendant for the Sumtur amphitheater in Papillion, NE
What is your dream job?
Owning my own sports performance lab, being the head physical therapist for the U.S. Men's National Soccer Team, and organizing soccer camps for kids in Third World countries as a missionary tool