Michaela Gibson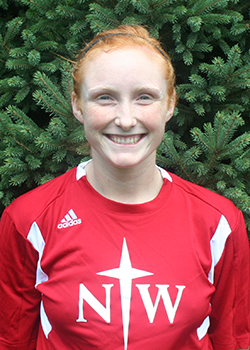 This week's Raider on the Radar is Michaela Gibson, a junior on the women's soccer team. This season, Gibson has started all four matches for the Red Raiders. Last year, as a junior, she started in seven matches and recorded one goal and one assist.
Michaela is from Gilbert, Iowa, and she is majoring in Christian Education and Youth Ministry.
Why did you choose Northwestern?
I wanted to be surrounded by a Christian community and also get to continue playing soccer.
So far, what has been the best part of your Northwestern College experience?
Soccer! And meeting great lifelong friends through it.
What makes Orange City a great place to be?
The size is perfect, it's beautiful, and I always feel safe here.
What is something that makes your team special or unique?
We're truly a family, on and off the field. We all share the same goals of playing hard for each other, and especially FOR HIM.
What's the best part about competing in the GPAC?
Each game is intense. It's never boring, and we're always working toward something more.
What advice would you give a high school athlete looking to compete collegiately?
Go check out the teams you're interested in. Get a feel for how the team works together and treats each other in and out of the sport. It helps in figuring out where your place on the team could be.
What advice would you give the freshmen on your team?
Keep working hard! You all bring a lot of positivity and energy to our team, which is a big benefit to our team.
Who was your biggest role model growing up?
I've always looked up to my older brother Austin. Not really sure why because he's a total dork, but I still love the guy.
What's your favorite pregame meal?
Pastaaa :)
Favorite movie?
The Other Woman
Favorite book?
Along for the Ride by Sarah Dessen
Favorite TV show?
Big Brother
What are your hobbies outside of your sport?
Other sports, like volleyball and badminton (shout-out to my partner in crime, Emily Stricklin)! Or just watching movies.
Favorite place you've visited?
Maryland or North Carolina. They're beautiful!
What was your first job?
I was an accountant's assistant for 5 years. Good stuff, right there.
What is your dream job?
I would love to work with missions. It's a great feeling to know we're making a difference for others somehow. Specifically, I'd like to work with Feed My Starving Children, a food packaging organization I visited a few years ago.