Marcus Altena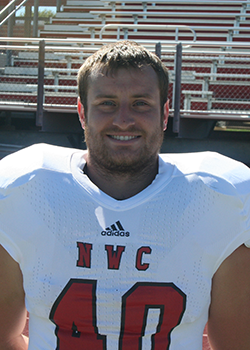 This year's first Raider on the Radar is football player Marcus Altena. The senior running back was named a Pflieger-Olson GPAC Scholar Athlete last year. He played in all 11 games in 2014, while rushing 20 times for 57 yards. Altena also caught two passes and returned one kick for the Raiders during his junior season.
Marcus is from Rock Valley, Iowa, and is majoring in Accounting and Business Management.
Why did you choose Northwestern?
I wanted to come to play football and to get a quality education.
So far, what has been the best part of your Northwestern College experience?
The time spent with teammates
What makes Orange City a great place to be?
The people are so welcoming and always willing to help out in every circumstance.
What is something that makes your team special or unique?
The relationships that have been built between teammates
What's the best part about competing in the GPAC?
The high quality of competition within the conference
What advice would you give a high school athlete looking to compete collegiately?
I would say make sure you know what you want to get out of the experience and give it everything you have.
What advice would you give the freshmen on your team?
Enjoy your time and take full advantage of all opportunities.
Who was your biggest role model growing up?
My Grandfather
What's your favorite pre-race meal?
A good sandwich
Favorite TV show?
Two and a Half Men
What are your hobbies outside of your sport?
Hunting, Fishing, and Trapping
Favorite place you've visited?
Washington State (Mt. Baker)
What was your first job?
I worked in a manufacturing shop.
What is your dream job?
To work as a CPA