Laura Hurley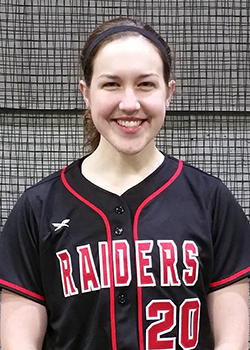 Laura Hurley, a senior on the Northwestern softball team, is our newest Raider on the Radar. She plays first base and has started 24 games this season for the Raiders. Hurley currently has a .278 batting average with one home run. She is second on the team with 11 RBIs.
As a junior last season, Hurley received GPAC Honorable Mention and NAIA Scholar Athlete honors. She hit .311 for the season, led the team with 31 RBIs, and set the Northwestern single-season record with 17 doubles.
Laura is from Canton, SD. She is pursuing majors in Biology, Mathematics, and Spanish.
Why did you choose Northwestern?
For me, it was important to study within a strong science department that would prepare me well for my future career. Having the opportunity to play softball while still being involved in a number of different student activities also drew me to Northwestern. My family is great and extremely supportive, so studying only an hour from home has allowed me to continue supporting my younger two siblings at their high school athletic and fine arts activities.
So far, what has been the best part of your Northwestern College experience?
The best part of my college experience is by far the people. The small school size has allowed me to get to know my professors well, especially those within my major studies. They have pushed me, celebrated with me, and even hosted brunch for class. Through my classes, residence halls, and softball I have met and formed great relationships. Likewise, these people continually encourage and support me through the wonderfully challenging years of college. It's cliché, but I truly believe these friends and relationships will last a lifetime.
What makes Orange City a great place to be?
The small-town atmosphere of Orange City is great. As an athlete, the community continually supports us. There are always community members cheering at games or stopping to offer congratulations or talk softball as we are out and about the town. As both a student and avid coffee drinker, I take advantage of short walks to Old Factory where I can study, enjoy breakfast, or catch up with a friend.
What is something that makes your team special or unique?
Each year the team is special for its unique mix of teammates and chemistry between the players, and this year is no different. We have an extremely talented group of great ladies. Although we've already had a few injuries on the team, players keep stepping up to fill the role that is asked of them. I think this speaks volumes to our adaptability, willingness to do whatever we can for the team, and will pay off for us this season.
What's the best part about competing in the GPAC?
The best part about playing in our conference is the level of competition. Each game, no matter the opponent, is a fight from start to finish. It challenges us to always be focused and ready to play until the last out of the game!
What advice would you give a high school athlete looking to compete collegiately?
I would be honest; it will not be perfect and it will not be easy. Balancing both academics and athletics can be hard, but it's worth it. Playing the sport you love, forming great relationships with teammates, growing throughout each season; this is what makes it great. I am so thankful for my experience as a student athlete and would not change it.
What advice would you give the freshmen on your team?
This is the same game you have played and loved for years, so have confidence and don't overthink it. At the same time, it's more than just a game. Take time to enjoy your teammates and opportunity to play each day.
Who was your biggest role model growing up?
One of my biggest role models is my older sister Rachel. Growing up, she was my biggest competition and set the bar high for my siblings and I to follow. I admire her work ethic and determination, and am constantly inspired by her perseverance in pursuing her passions.
What's your favorite pre-game meal?
I don't have a true pre-game tradition, but my go-to in between doubleheader games is an apple with peanut butter.
Favorite movie?
I'm a huge Sandra Bullock fan, so definitely The Proposal and Miss Congeniality. The Hunger Games trilogy and Harry Potter movies are top-notch, too.
Favorite book?
I love to read, so this one's tough. The most recent book I read was Leaving Time by Jodi Picoult, which I really enjoyed.
Favorite TV show?
I really enjoy Quantico right now, but also like Grey's Anatomy and Friends re-runs.
What are your hobbies outside of your sport?
I love to travel, read, and drink coffee with friends.
Favorite place you've visited?
Last summer I traveled west with two good friends on a road trip out to Oregon, which was a blast. I also have been to rural Nicaragua multiple times, and love the people and community there.
What was your first job?
My first job was working at home on the family farm.
What is your dream job?
I would love to work as a doctor in a community with limited healthcare access, focusing especially on care and health education for the mothers, adolescents, and infants.