Kim Korver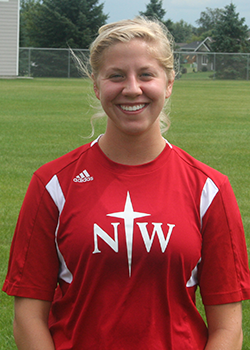 Kim Korver, a senior on the women's soccer team, is this week's Raider on the Radar. As a junior last season, Korver started in all 18 games and received honorable mention All-GPAC honors. She has started in all eight games so far this season for the 3-3-2 Red Raiders.
Kim is pursuing a major in Psychology and a minor in Sociology. She is from Pella, Iowa.
Why did you choose Northwestern?
Northwestern felt like home to me. Both of my older siblings came to Northwestern, so I made many trips to visit them and grew very comfortable with the community and institution.
So far, what has been the best part of your Northwestern College experience?
The best part of my college experience has absolutely been the friendships that I have made. My friends have been life-giving. It's been such a blessing to find people who desire to pour into you and walk through life's hardships and joys with you.
What makes Orange City a great place to be?
Orange City is filled with generous people who make an effort to make the college students feel welcome. College students feel valued and known by the community. Orange City is a very clean and safe town, making it a great place to spend four years of college.
What is something that makes your team special or unique?
Our women's soccer team is unique in that each lady is a fierce competitor on the field, in both practice and in games. Our team has an outstanding work ethic and is willing to push one another in order to achieve our goals.
What's the best part about competing in the GPAC?
There are many teams that are equally talented which challenges your team but allows the opportunity to get better.
What advice would you give a high school athlete looking to compete collegiately?
Competing collegiately is a significant time commitment but also leaves you with a sense of accomplishment and pride for your school and team.
What advice would you give the freshmen on your team?
Get to know people! College is much more enjoyable when you've established friendships.
Who was your biggest role model growing up?
My older brother, Klarc Korver
What's your favorite pre-game/pre-match/pre-race meal?
Fruit and oatmeal!
Favorite movie?
Pride and Prejudice
Favorite book?
Redeeming Love by Francine Rivers
Favorite TV shows?
Anything on the Food Network
What are your hobbies outside of your sport?
Spending time with friends and family, cooking, and reading
Favorite place you've visited?
Denver, Colorado
What was your first job?
Life-guarding
What is your dream job?
Being a mom