Katy Kuiper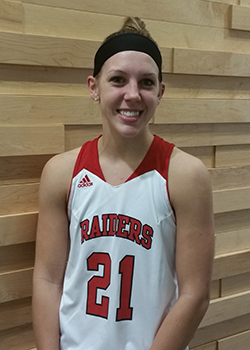 Our newest Raider on the Radar is Katy Kuiper, a senior on the women's basketball team. Kuiper played in 28 games for the Red Raiders as a junior last year. She scored in double figures in six games and earned NAIA Scholar Athlete honors. Kuiper has played in all four contests so far this season. The Raiders have a record of 3-1.
Katy is an Elementary Education major and is pursuing endorsements in K-12 Special Education and Elementary Reading. She is from St. Peter, Minnesota.
Why did you choose Northwestern?
When I first started looking at Northwestern, it was more to please my family. Most of my dad's family (my grandparents, my dad and his siblings) all attended Northwestern and participated in sports. My feelings changed completely when I stayed overnight with some basketball girls during my senior year and it just felt right. The great education program and the opportunity to continue my basketball career also helped me in my decision process.
So far, what has been the best part of your Northwestern College experience?
The best part of my experience at Northwestern has definitely been the relationships I've made. The people I met my freshman year in the dorms, as well as my teammates, are some of my best friends that I know I will be close with for the rest of my life. I also appreciate the relationships I've made with professors and coaches working in the Bultman Center.
What makes Orange City a great place to be?
I love how the whole community makes you feel welcome. No matter where you are, on or off campus, there's always a smiling face saying hi or asking how I'm doing or when my next game is. I really love the Christmas lights that hang across the street downtown during this time of year.
What is something that makes your team special or unique?
I love my team. We have an awesome group that gets along on and off the court. Our team has a lot of different personalities, but they all blend together to create a competitive but welcoming atmosphere.
What's the best part about competing in the GPAC?
The best part about competing in the GPAC is definitely the level of competition. No matter who we're matched up against, we know it is going to be a battle. There is never a dull moment on game nights within the GPAC.
What advice would you give a high school athlete looking to compete collegiately?
Stay humble. Coming in, it's a bit of an adjustment playing with the best players from high schools around the area and across the Midwest.
What advice would you give the freshmen on your team?
Don't be afraid of making mistakes. It's better to go hard and make mistakes than to play hesitant. Don't worry about playing perfect; no one is perfect and no one expects you to be.
Who was your biggest role model growing up?
Growing up, I looked up to a few different people. Off the court, my biggest role model was my mom. She's actually the best. The way she raised me and loved me no matter what happened in a game, or if I made a mistake, makes me want to be just like her when I have kids. On the court, I looked up to Megan Vogel. She attended St. Peter High School and then played for South Dakota State University. She was always the hardest working player on the court and got her teammates involved.
What's your favorite pre-game meal?
In high school, I loved chocolate chip pancakes and hash browns before home games. But away games, I would bring mac and cheese on the bus along with a 6-inch Erbert's and Gerbert's sandwich. Now, I'm not so picky. But I like breakfast stuff like eggs, bacon and cereal.
Favorite movie?
Without a doubt, "The Dark Knight"!
Favorite book?
Ahhh…tough choice. I enjoy love stories by Nicholas Sparks or John Green's The Fault in Our Stars. The Hunger Games series and Divergent series are great, as well.
Favorite TV show?
I enjoy watching Grey's Anatomy, One Tree Hill and Revenge I'm also a sucker for reality TV series like Survivor and Amazing Race.
What are your hobbies outside of your sport?
I love crafting and cooking! In my free time, I enjoy scrapbooking and painting canvases. The best is finding new projects and recipes on Pinterest! So far, only a few not-so-good turnouts on the food end of things.
Favorite place you've visited?
Of all the places I've visited, my favorite would have to be Switzerland. It was breathtakingly beautiful and the food was delicious.
What was your first job?
My first job was painting houses with my family during the summer. My first job where I was actually on a payroll, though, was as a teller at a bank back home working for my high school basketball coach.
What is your dream job?
While I would love to have my own 5th grade classroom someday, my dream job would be working as an interior designer.