Karlie Schut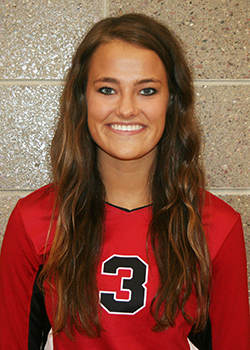 Karlie Schut, a senior on the Red Raider volleyball team, is our newest Raider on the Radar. Going into the GPAC tournament, Schut is leading the 24-7 Raiders with a 4.04 kills per set average. She was named GPAC Offensive Attacker of the Week earlier this season, and she wrapped up the regular season leading the conference in kills.
Schut earned second team all-conference honors as a freshman and was a first team all-conference selection her sophomore and junior years. She was also named an NAIA All-American as a sophomore and junior.
Karlie was named an NAIA Scholar Athlete last season and is pursuing a degree in Nursing. She is from Des Moines, Iowa.
Why did you choose Northwestern?
I chose Northwestern because it is a school where it is possible to play volleyball at a competitive level and also be in the nursing program. At many schools, that is not even a possibility. I am thankful at NWC they are willing to work with you to coordinate schedules, which has allowed me to pursue both passions.
Also, many of my family members have graduated from here in the past and I have grandparents in Sioux Center, so I grew up around/was familiar with NWC.
So far, what has been the best part of your Northwestern College experience?
The best part of my experience at Northwestern has been the friends I have made here. I have made so many friends and learned a lot about myself through the volleyball team, but also through my classes and through living with great roommates. God has blessed my experience here by surrounding me with great people!
What makes Orange City a great place to be?
Orange City is a great place because the town cares about the well-being of the college and the students. Very frequently someone I don't even know will come up to me at the grocery store or the hospital, recognize me from the volleyball team, and talk about loving to come to games and watch our team play. It is great to feel supported and loved by community members.
What is something that makes your team special or unique?
Our team is special because we are a group of over 20 girls, and in my four years here we have never had any team drama. I have honestly made some of my closest friends from the volleyball team, which is a good thing considering we spend time together every day! Whether we are traveling for away games, away for a weekend tournament, or just going to a typical practice, the girls always know how to laugh and have a great time.
What's the best part about competing in the GPAC?
The best thing about the GPAC is that there is a different challenge to each team and each team has different strengths we have to prepare for. And there are usually a lot of good teams - this year almost half the conference (at one point) was ranked in the top 25 in the nation!
What advice would you give a high school athlete looking to compete collegiately?
I would encourage them to continue to pursue their passions in athletics! College sports are definitely a time commitment, so that is something to expect and prepare for, but it is so worth the time. You will make some great friends and find out that there is so much to learn from being a collegiate athlete: learning to manage your time, to be a team player and sacrifice yourself for the good of others, learning how to respond under pressure, how to deal with both successes and failures, and many more.
What advice would you give the freshmen on your team?
Enjoy your four years of college sports! It sounds cliché but is so true that time goes too fast. Although there is more to life than sports, throughout high school and college it takes up a significant amount of your time, so sometimes it is easy to take for granted what a privilege it is to have the ability to play and be a part of a team.
Who was your biggest role model growing up?
My siblings. My sister is one of the most loving, thoughtful, and selfless people I know. My older brother is such a people person and a natural leader. He was also passionate about sports growing up, so he taught me a thing or two about sports and made me tough. I also have a younger sister who is smart and funny and works hard at everything she does. My siblings did - and continue to - inspire me!
What's your favorite pre-game meal?
Dry oatmeal, honey, peanut butter, and sometimes chocolate chips (if coach wasn't looking!) all mixed together and then eat it with an apple or banana. It is delicious.
Favorite movie?
I'm a sucker for a good romance, so any chick flick is probably a safe answer!
Favorite book?
Hard question…
Favorite TV show?
Toss-up between Friends and Grey's Anatomy
What are your hobbies outside of your sport?
I love to spend time with friends and family, drink coffee at a local coffee shop, spend time outside, and I am trying to learn to be a better cook.
Favorite place you've visited?
During high school, there was a large group who traveled around Europe for a few weeks. It was fun to get to see all the historic places you learn about/hear about in real life and experience the different cultures. The beach is always a great option though, too!
What was your first job?
Every summer since I started working in high school, I have worked at a daycare. It's a great job because I love kids, and you basically get paid to spend the day with them and do fun things like swimming, bowling, movies, etc. It has definitely been a great job the past 6 years.
What is your dream job?
My dream job is to work in a hospital with moms and babies! Whether that is in the NICU or labor and delivery, both sound like such a cool experience. I love the idea of getting to interact with new families during such an exciting and sometimes challenging experience in their life and be there to serve, love, and walk alongside them during that time.