Justin Kraft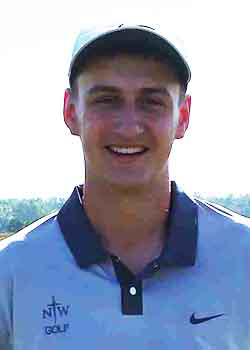 This week's Raider on the Radar is sophomore golfer Justin Kraft. As a freshman last season, Kraft earned GPAC Player of the Year and first team all-conference honors, and he also won the 72-hole GPAC Championship. Along with winning two events, Kraft recorded seven top-10 finishes on the year. Earlier this season, he placed first at the Siouxland Invite and second at the Morningside Invite. Kraft most recently finished tied for 10th at the second GPAC men's golf qualifier in Lincoln, Nebraska.
Justin is from Lake View, Iowa, and is majoring in Business Administration.
Why did you choose Northwestern?
I chose Northwestern because Coach Aberson showed a lot of interest in me right away, not only for my golf game, but also for me as an individual. He cared more about me getting a good education and surrounding myself with the right people than any other coach ever has. I decided if everyone at Northwestern was like him, I was going to be surrounding myself with people who would help me grow into the man I want to be.
So far, what has been the best part of your Northwestern College experience?
The relationships I've developed with everyone, not just my teammates, has made Northwestern an awesome experience. I've also really loved competing in golf tournaments in so many different states and at so many different courses.
What makes Orange City a great place to be?
It's a very friendly area and a safe environment. Everyone always has a smile on their face and just seems genuinely happy. It's hard to have a bad day when you're surrounded by people like that.
What is something that makes your team special or unique?
The men's golf team is special because we are all great friends. I've never had more fun with a group of guys than I have had with this team. We all trust each other and believe in one another's abilities, and one of them will always pick you up if you're feeling down.
What's the best part about competing in the GPAC?
The GPAC has some great competition. There's a different level of focus from every one of our guys during the day of a GPAC tournament. The nerves and intensity you feel during competition just makes you want to keep coming back for more. It's like playing your rivals every time.
What advice would you give a high school athlete looking to compete collegiately?
Northwestern is a juggernaut athletically. Part of the reason I looked at Northwestern was because they were so good at golf. Northwestern is great in all athletics, so if you're looking to make an impact and get challenged by your teammates on a daily basis, Northwestern is a great place for you.
What advice would you give the freshmen on your team?
If a coach is hard on you, it's because he believes in your potential and wants to make you better. The day you should worry is the day a coach quits spending his time and effort on helping you improve.
Who was your biggest role model growing up?
To be honest, I really liked Tiger Woods… But I guess that's not a good answer anymore. I'd have to say my parents. No one has ever supported and believed in me more than they have. I wouldn't be anything close to the man I am today without their support and belief in me.
What's your favorite pre-round meal?
M&M cookies
Favorite movie?
Tin Cup
Favorite book?
I'd have to read one first... Just kidding! I really liked The Big Miss by Hank Haney. It's basically a story about his experiences coaching Tiger Woods. It's a great book.
Favorite TV show?
First Take on ESPN
What are your hobbies outside of your sport?
I love playing basketball during the winter months when I can't golf. It's especially fun beating the golf team in NBA on Xbox all winter. Anything I get to do with my family is always fun, too. I like hanging out at the pool, boating, and basically everything else you do in the summer.
Favorite place you've visited?
Daytona Beach, Florida, was incredible. We qualified for Nationals last year and got to spend a week there last May. It was awesome!
What was your first job?
I worked off and on for my mom's pharmacy in Lake City, Iowa, throughout high school. But my first "real job" was at Golf Products, Inc. in my hometown.
What is your dream job?
Any job in the golf industry would be a dream come true