Jordan Baker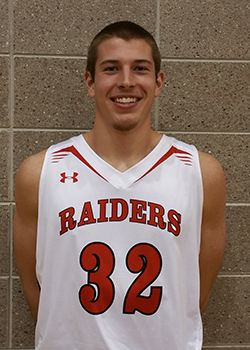 Jordan Baker, a junior on the Red Raider men's basketball team, is our newest Raider on the Radar. He is averaging 15.6 points and a team-leading 11.8 rebounds for the 5-4 Raiders. Baker earned honorable mention all-conference honors for the second season in a row last year while averaging 12.9 points and 8.2 rebounds.
Jordan is a Business Education major and is also pursuing a minor in Math Teaching. He is from Sioux Falls, SD.
Why did you choose Northwestern?
I chose Northwestern because it offered what I was looking for both academically and athletically. I knew I wanted to play college basketball coming out of high school, and Northwestern made that a possibility. NWC also had a strong actuarial science program which I was interested in as a freshman, but I decided to pursue education instead.
So far, what has been the best part of your Northwestern College experience?
The best part of my Northwestern College experience so far is the friendships that have developed through every part of college. Whether it be through classes, dorm life, or the basketball team, I have made great friends that make the college experience that much better.
What makes Orange City a great place to be?
The community in Orange City is unlike anything I've really experienced before. People take the time to get to know you and make an intentional investment in your life. Everybody is pretty welcoming.
What is something that makes your team special or unique?
I think what makes us special or unique is that we are a team but also a family. Everyone has each other's back no matter what the circumstance is. On or off the court we know that we can always count on each other.
What's the best part about competing in the GPAC?
The GPAC is competitive night in and night out. Each game you know you're going to be in a dogfight and it challenges you both mentally and physically.
What advice would you give a high school athlete looking to compete collegiately?
I would say it is worth every second. It is going to take a lot of your time and effort, but in the end it is going to teach you a lot about yourself. You are going to make mistakes, you are going to have to be a follower and a leader, and you are going to figure out how to be a great teammate – both on and off the court/field.
What advice would you give the freshmen on your team?
Keep growing, and enjoy it. Our freshmen have done well so far this year and we are confident in their abilities. The four years goes fast, so enjoy every practice and every game.
Who was your biggest role model growing up?
My biggest role model growing up was my older brother. I always took his advice more seriously than others' because he had been in my position just a few years before me. He excelled at what he put his mind to and I admire him for that.
What's your favorite pre-game meal?
I don't really have one! Whatever the caf serves that day I guess… although a bowl of Captain Crunch Berries cereal never hurts.
Favorite movie?
This one is difficult… I might have to go with my favorite movie series, which would be either The Lord of the Rings series or Harry Potter.
Favorite book?
Considering I don't read that often...maybe The Hunger Games?
Favorite TV show?
Suits. Best show on TV.
What are your hobbies outside of your sport?
Hanging out with friends, gaming (League of Legends), or watching movies
Favorite place you've visited?
Jamaica would have to be my favorite place that I've visited. The beaches and everything were amazing.
What was your first job?
My first job was a cashier at Burger King.
What is your dream job?
My dream job is being a middle school principal.