Joleen Wilhelm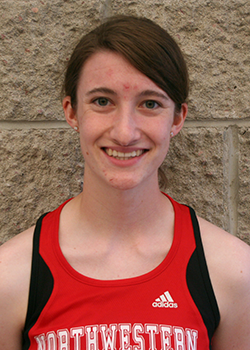 Joleen Wilhelm is this week's Raider on the Radar. Wilhelm is a senior on the Red Raider women's cross country team. In the first meet of the season this year, the Augustana Twilight meet, she posted a career-best time of 20:02.55. As a junior last year, Wilhelm competed in four races for the Red Raiders and recorded a season-best time of 21:08 at the Briar Cliff Invite.
Joleen is a Manitowoc, WI native and is majoring in Political Science. She is also pursuing a minor in Economics, Writing and Rhetoric.
Why did you choose Northwestern?
So far, what has been the best part of your Northwestern College experience?
What makes Orange City a great place to be?
The welcoming community and the local hot spots such as the Dutch Bakery
What is something that makes your team special or unique?
We're not the only team who might do this, but I love how we pray before each practice and each race.
The team as a whole truly puts God first!
What's the best part about competing in the GPAC?
The GPAC is a highly competitive conference especially in cross country and track, so just the opportunity to run with other runners who push you to race better
What advice would you give a high school athlete looking to compete collegiately?
The key to success in college running is summer training. You will perform as well as you train!
What advice would you give the freshmen on your team?
Transitioning to college life (and college running) can be tiring yet rewarding; allow yourself the grace to adjust, and find the time for alone time with God.
Who was your biggest role model growing up?
Mother Theresa
What's your favorite pre-race meal?
Spaghetti with garlic bread and chocolate milk! Runners can pack a lot away the night before a meet ;)
Favorite movie?
Mr. Holland's Opus
Favorite book?
I have too many to pick one!
Favorite TV show?
Chuck
What are your hobbies outside of your sport?
Reading, writing, biking, spending time with friends
Favorite place you've visited?
Madrid, Spain for World Youth Day 2011
What was your first job?
Working for Northwestern's campus catering department, Sodexo
What is your dream job?
Being a political analyst or journalist for a news outlet