Jessica Sawatzky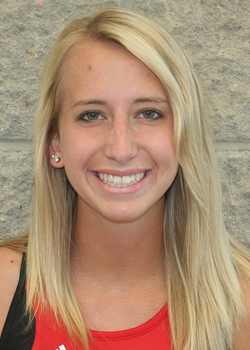 This week's Raider on the Radar is Jessica Sawatzky, a junior on the Northwestern cross country team. Sawatzky posted a season-best 21:07.00 at the Augustana Twilight race on September 5.
Jessica is a junior from Mountain Lake, Minnesota. She is an Elementary Education major and is also pursuing a Reading Endorsement.
Why did you choose Northwestern?
I chose NWC because my sister came here for a year and half, and I remembered visiting her and loving the campus. I also knew that I wanted to go to a private Christian school close to home, and on my many visits to campus I fell in love with all aspects of this place. I had wonderful hosts and tour guides who I maintained relationships with upon my arrival on campus. I also loved how the education program was structured and how relatable the professors were.
So far, what has been the best part of your Northwestern College experience?
My favorite part of college so far has been my involvement in Spring Service Projects. I have been on two trips so far: Cary, MS, and New Orleans, LA. On my second trip, I was able to be a student leader, which was a wonderful experience; once again I have signed up and been accepted to lead another trip – this time to Annville, Kentucky. I love that our college does Spring Break mission trips and I would say many of my friendships have come from those who have been on my teams. It has been a great way to experience cross-cultural places within the U.S. and meet people with whom I wouldn't normally be connected on an everyday basis on campus.
What makes Orange City a great place to be?
I really love the small town feeling. I feel like I am at home here, simply because I grew up in a small town, so I am comfortable here. I also love the community outside of college, especially within the churches; all the families are welcoming and willing to help out in any way possible. I have a host family here in town, and they have been the biggest blessing in my life in my three years here.
What is something that makes your team special or unique?
The cross country team, I would say, is more like a family. We are smaller than most teams and we are co-ed – so we do a lot of things together in that way – which other teams usually don't. On our team we are able to have many close friendships with men and women. Also, we share in all accomplishments and hardships, as well. Everyone is always looking out for one another – yet another reason I would call our team a family.
What's the best part about competing in the GPAC?
I have enjoyed, yet again, the smallness; but just as equally, the competitive feeling that one may possibly not get competing at other levels. I have learned not to underestimate what talent can come from smaller schools. I also like the standards that we are held to competing in the GPAC as well as the NAIA. They challenge us to become better athletes, but more importantly better people.
What advice would you give a high school athlete looking to compete collegiately?
I would say go for it! It can be challenging at first – trying to balance athletics and school work – but it is possible. Being part of the team has indeed made me a better person and it is also where I have found life-long friends and mentors.
What advice would you give the freshmen on your team?
I would let them know that this first year will be tough: you may not be performing like you used to, you may not be the top dog anymore, and you may experience injury. But keep your head up and keep working hard because in the years to come, you will see improvement in ways that you did not know before and it will all pay off. Be patient and trust that The Lord has a plan and a purpose for you being on the team!
Who was your biggest role model growing up?
All of my siblings have been role models in my life. I am the youngest of four, so watching them grow up has always been a part of my life. Although they are not perfect in any way, I have learned so much from them and I still learn from them today. In all aspects – from athletics to faith to love, they have taught me so much and I think they are the main reason I am who I am today.
What's your favorite pre-race meal?
I love any type of pasta the night before. On the morning of, I love yogurt, granola, and a banana!
Favorite movie?
13 Going on 30. Gotta love those chick-flicks!
Favorite book?
Redeeming Love by Francine Rivers
Favorite TV shows?
The Voice and The Sing-Off
What are your hobbies outside of your sport?
Spending time with my niece and nephew, traveling, blogging, reading, being with friends
Favorite place you've visited?
Split, Croatia – in Southeast Europe
What was your first job?
Working on the family farm: growing, maintaining, and selling our famous sweet corn
What is your dream job?
Teaching in an international mission school in some country. I don't really care where; I am open to wherever The Lord would lead me.