Haley Chambers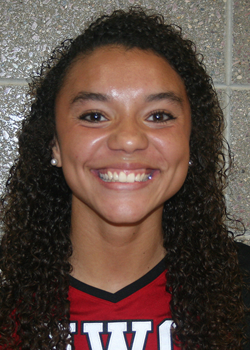 This week's Raider on the Radar is junior volleyball player Haley Chambers. Chambers is an outside hitter for the seventh-ranked Red Raiders. As a sophomore last season, she earned second team all-conference honors and ranked ninth in the GPAC in kill efficiency. This season, Chambers once again earned second team all-GPAC honors, ranking eighth in kill efficiency. Heading into the national championship, she is averaging 2.5 kills per set.
Haley is a Psychology major and is also pursuing a minor in Youth Ministry/Christian Education. She is from Sioux Falls, SD.
Why did you choose Northwestern?
Northwestern was truly given to me on a silver platter. I visited my junior year of high school and knew I wanted to play volleyball and have a Christian atmosphere. I also wanted to be somewhat close to home. I came, played at open gym, and immediately loved the program and community. Northwestern had everything I needed and it was my first and only college visit!
So far, what has been the best part of your Northwestern College experience?
The best part of my NWC experience has been the relationships I have made. I know we throw around the word "community" a lot here, but seriously, I have had conversations with people that have led to deeper conversations and resulted in deeper friendships. People have influenced my faith and spiritual walk and I have grown the most over a cup of coffee and an intentional conversation with another student, professor, faculty member or teammate. I've made friends who know me better than I know myself because they are around me all the time and know my quirks and weird mannerisms.
What makes Orange City a great place to be?
I love the smallness of the community and how the community is so involved in the college and lives of the students. People are so welcoming and open and support us students so well. I have seen multiple people that I met at church come to volleyball games and cheer and come up to me after to say "good job." I love feeling connected and being a part of something and having a place in a community where I am not just another face.
What is something that makes your team special or unique?
One word: Chemistry. We get along SO WELL off the court and that definitely contributes to our ability to play as a team and is what I think sets us apart. I couldn't even begin to start counting the times we've spent laughing and being weird, speaking in weird voices, watching odd youtube videos and just plain hanging out. We (at least I) truly enjoy being in the presence of my teammates. We all bring something unique to the team that gives a glimpse of the character of Christ and it is so sacred because I don't think many teams have that chemistry.
What's the best part about competing in the GPAC?
Being in the GPAC is always exciting. You never really know what will happen. Every team is out to compete and each game we have to get better and better and never look past any opponent. Never a dull moment in the GPAC.
What advice would you give a high school athlete looking to compete collegiately?
I would say that you have to understand that competing in college athletics requires a passion for whatever sport you want to play. You have to be passionate about your sport, or be passionate about what your sport can teach you and the character that it will build in you. It's challenging and not easy by any means, but it is so worth the challenge because you learn so much about your sport and more importantly about life.
What advice would you give the freshmen on your team?
There is always an opportunity to get better. Whether that be improving in skill, being a better teammate, learning more about God, or gaining a knowledge of the game. Don't get discouraged if you aren't playing because it is always a learning process and there is something to be learned in each person's position, whether that be on the court or off the court.
Who was your biggest role model growing up?
I had a lot of role models. Normally, it was someone older who I respected and who loved me and poured into me or others.
What's your favorite pre-game meal?
A sandwich?
Favorite movie?
The Master of Disguise
Favorite book?
Hard question. Captivating by John and Stasi Eldredge or The Hunger Games Trilogy
Favorite TV show?
Parenthood
What are your hobbies outside of your sport?
Drinking coffee, talking to people, asking people weird questions, thinking of weird hypothetical scenarios…really anything with people or getting to know people. Crafting, reading weird books about simple things that make me happy, thrifting, watching Parenthood.
Favorite place you've visited?
Jamaica
What was your first job?
B&G Milkyway
What is your dream job?
World traveling coffee taste-tester who writes about the beautiful places she's traveledJ