Dylan Hengst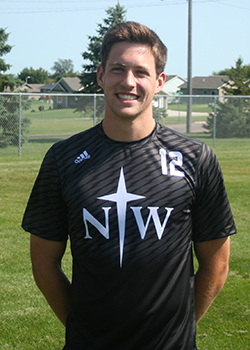 Our newest Raider on the Radar is Dylan Hengst, a junior on the men's soccer team. As a sophomore last season, Hengst started in 18 matches for the Red Raiders. This year, he has played in, and started, 14 matches. The Raiders have an 11-4-1 overall record and are in third place in the GPAC with a conference record of 6-1-1.
Dylan is from Cedarburg, Wisconsin, and is pursuing a degree in Athletic Training.
Why did you choose Northwestern?
My older brother, as well as both of my parents, went to Northwestern, so it has been on my radar for a long time. After weighing my options, Northwestern just offered me the best situation academically as well as having the opportunity to keep playing soccer.
So far, what has been the best part of your Northwestern College experience?
I would have to say playing on the soccer team. We're such a tight-knit group of guys; we really are like a family. From the first day of my freshman year I've felt completely welcomed and I've tried to make sure that every new player can feel the same way.
What makes Orange City a great place to be?
Definitely the people. Anywhere you go, people are really nice to you, even if you have no idea who they are.
What is something that makes your team special or unique?
Since soccer is such a worldwide sport, so we get a lot of international guys that come here to play. I love it because each one brings a little bit of their own culture to the team. So we have one or two phrases that we all know in Portuguese or German that wouldn't make any sense to anyone else listening.
What's the best part about competing in the GPAC?
The GPAC is such a level playing field so you always know you're going to have to battle for every win. Some games are going to be easier than others, but for the most part any GPAC game is going to be a pretty close competition - so it comes down to who wants it more. It really shows the character of your team.
What advice would you give a high school athlete looking to compete collegiately?
Just be sure of yourself and don't worry about what other people say about you or your team. Don't get down on yourself ever, just focus on performing at your highest level and don't forget to have fun!
What advice would you give the freshmen on your team?
Keep doing what you're doing. You guys have all had a great impact on the team so far. Stay positive and keep working so you can achieve the role you want on the team.
Who was your biggest role model growing up?
It's cliché, but I would have to say my older brother. I always wanted to do everything he did, and that's actually how I started playing soccer.
What's your favorite pre-match meal?
Any kind of pasta
Favorite movie?
The Princess Bride
Favorite book?
The Name of the Wind by Patrick Rothfuss
Favorite TV show?
The Office
What are your hobbies outside of your sport?
Playing basketball, racquetball, or hanging out with my friends or my girlfriend
Favorite place you've visited?
Arizona in general, but particularly the Grand Canyon
What was your first job?
Sweeping the shops at my dad's countertop company
What is your dream job?
To be the team physician for the Milwaukee Bucks