Courtney Hummel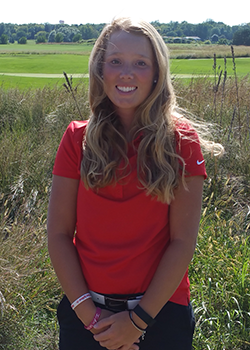 Our newest Raider on the Radar is junior golfer Courtney Hummel. Hummel has recorded top-10 finishes in three events this season. She shot a career-best 83 and finished in a tie for 7th place at the Morningside Invite in late September. Hummel is currently leading Northwestern and tied for 17th place, with a 54-hole score of 265, in the GPAC Championship with the fourth and final GPAC Qualifier remaining. As a sophomore last year, Hummel played in seven events and recorded two top-ten finishes.
Courtney is from Hawarden, Iowa, and is pursuing an Elementary Education degree.
Why did you choose Northwestern?
I really had no idea where I was going to school until about January of my senior year. I had been to some other schools, but there is just something about Northwestern that really got me here. I knew I wanted to go into Elementary Education and we have an exceptional Education program here. I also knew I wanted to be close to home. Family is very important to me, so being only half an hour away allows me to go home whenever I want. My brother is still in high school, so I knew I didn't want to miss all of his activities.
So far, what has been the best part of your Northwestern College experience?
The best part of my college experience is the friendships I have made. Being a part of a team here is more than just competing together. You become a family. The teammates I have had past and present will be lifelong friends. Also, the relationships you build with professors are something amazing! The truly do invest their time in you and take time out of their days to talk!
What makes Orange City a great place to be?
Orange City is a great place to be because it is so small and everyone here is so friendly. Professors invite you over for supper, coaches let you come hang out and do laundry, and there is nothing better than small town atmospheres. Being able to walk almost everywhere and feeling safe about it is also great. Midnight donut runs and walking to the movie theater at midnight for a movie have been some of my best memories.
What is something that makes your team special or unique?
Our team is a fairly small team, but something that I think is very special about us is that nobody thinks they are better than another person. We are truly like a family. We all get along better than I would have ever expected. When I was a freshman, I was scared out of my mind, but all the upperclassmen welcomed me with open arms and acted like I had been part of the team forever!
What's the best part about competing in the GPAC?
Competing in the GPAC is something very special. Every person that you play with has something in common with you. Over the past three years, I have made bonds with players and coaches that will either last a lifetime or that I will remember forever.
What advice would you give a high school athlete looking to compete collegiately?
Playing a sport in college takes a lot of hard work, but it is very fun! If you are willing to put in the hard work in the classroom and on the playing field, I would say, "Go for it!" You never know what it will be like if you don't try it. Give it a shot. You really have nothing to lose.
What advice would you give the freshmen on your team?
The advice I would give to the freshman on my team is to enjoy it while you can! Your college experience is something you will never get back, and it is one of the best times in your life where you meet lifelong friends!
Who was your biggest role model growing up?
My biggest role model when I was growing up was probably my dad. He has always been such a hard worker and would do whatever it took for my brother and I to be the best we could be. He would take us to the backyard and we would hit golf balls for hours. He spent countless hours sitting on a 5-gallon bucket catching me while I would pitch to him. It didn't matter the time of day, what day it was, or what the weather was like. He was always willing to stop what he was doing to help my brother and me. I would not be a college golfer if I hadn't had him pushing me at every high school practice and every meet.
What's your favorite pre-match meal?
I don't necessarily have a favorite pre-match meal, but I do always eat eggs and yogurt every morning before we have a meet. Yes, I would rather sleep that extra 15 minutes, but my mom always told me breakfast is the most important meal of the day! Plus, she would always make me eggs and bacon in high school the morning of a big meet!
Favorite movie?
Since I am a golfer, it would only make sense for me to love a golf movie! My favorite movie is Caddyshack, which everyone in my family can quote!
Favorite book?
I am not the type of person who can just start a book for no reason. I haven't ever been into reading, but I love books about sports and true stories, so I'll go with The Scared Acre.
Favorite TV show?
Whenever you come to my house, the chance of my family and I watching ESPN is very great! We all love sports and love to watch ESPN.
What are your hobbies outside of your sport?
I love to travel and hang out with friends and family. I also love going to the lake in the summer and hanging out on the boat.
Favorite place you've visited?
My favorite place I've visited is Africa. I was lucky enough to spend three weeks there with my cousins visiting other family and touring around the country and doing some mission work.
What was your first job?
My first job was working for my dad and grandpa at our family's pharmacy. I worked at the cash register and would deliver pills to the hospital or nursing homes.
What is your dream job?
My dream job is to become a 3rd grade teacher. I would also like to someday coach middle school softball or basketball, or coach high school golf.