Casey Guthmiller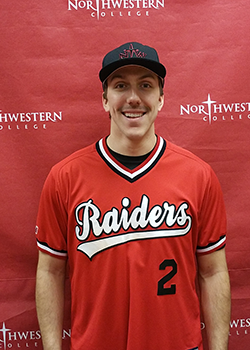 This week's Raider on the Radar is baseball player Casey Guthmiller. Guthmiller, a junior, plays center field for the Red Raiders. He has started 33 of 34 games this season and currently has a .231 batting average. Guthmiller has 24 hits, 4 doubles, 1 home run, and 12 RBIs on the season.
As a sophomore last season, he hit .352 at the plate and earned Honorable Mention All-GPAC honors.
Casey is from Orange City, and he is pursuing a degree in Exercise Science.
Why did you choose Northwestern?
Northwestern had all the qualities I was looking for in being a Christian college with strong academics and a solid baseball program. I grew up watching the Raiders and was pumped about the idea of being one.
So far, what has been the best part of your Northwestern College experience?
The best part of Northwestern for me has been the people that inhabit this place. Living in Coly especially has been a blast. I've met so many great friends that I'll have for the rest of my life.
What makes Orange City a great place to be?
Orange City is awesome. It's such a tight-knit community that strongly values its morals and beliefs. It's also ridiculously, clean which is nice.
What is something that makes your team special or unique?
The baseball team shares a special bond that is fun to be a part of every year. It's incredible how close we grow together by the end of the year. We've also been starting up some Bible studies on Saturday mornings, which is really special.
What's the best part about competing in the GPAC?
The GPAC is a very competitive and fun conference to play in. Especially in baseball, you have to come out to every game with a purpose, as all the teams in the conference are around the same talent level. It makes it fun and exciting, as you'll never know who will be at the top by the end of the year.
What advice would you give a high school athlete looking to compete collegiately?
Collegiate athletics serve as a great opportunity to not only continue using your gifts but to grow as a person as well. I would encourage high school students to look at more than simply how successful a certain college has been at a sport in the past. Look at the culture of the team, how they interact, and what they're all about. You spend a lot of time not playing games, so it is important that you will be able to get along and enjoy the time spent with your teammates.
What advice would you give the freshmen on your team?
I would tell them to keep at it and to not take a day for granted. Freshman year can sometimes be a tough transition type of year, but it only gets better from there. Don't get disheartened if your season isn't going how you want it to as far as playing time is concerned – that's fairly common for freshmen.
Who was your biggest role model growing up?
My parents have been awesome influences on me growing up. They have shown me what the Christian faith looks like through their actions and instilled in me moral and values I'll forever be thankful for. I also looked up to Torii Hunter, center fielder for the Minnesota Twins. He was crazy good, but also crazy humble. It's always fun to see positive influences in a steroid-crazed league.
What's your favorite pre-game meal?
I enjoy a good PB & J. 50% PB, 50% J. Gotta be the perfect ratio. Chinese food is super good, too. The caf serves this Lo Mein stuff every now and then, and that's incredible. Probably not the best for pre-game though, so I'll stick with the PB & J.
Favorite movie?
The Lion King
Favorite book?
Wild at Heart by John Eldredge
Favorite TV show?
The Office
What are your hobbies outside of your sport?
Hiking, kayaking, listening to the Backstreet Boys, playing piano
Favorite place you've visited?
Alaska
What was your first job?
Coaching rec t-ball
What is your dream job?
Being a Head Physical Therapist for a professional sports team