Caleb Vander Baan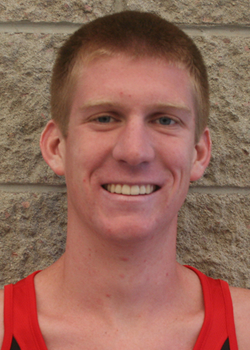 Caleb Vander Baan is this week's Radar on the Radar. Vander Baan is a junior and a two-time letterwinner on the Red Raider cross country team. As a sophomore last season, he recorded one top-10 finish and placed 69th at the GPAC Championship. This season, Vander Baan has competed in all six meets for the Red Raiders and recorded a 4th place finish at the Herb Blakely Invite with a time of 27:01. In the GPAC Championship meet, he placed 19th with a time of 26:13.
Caleb is majoring in Secondary English Education and is from Lakewood, California.
Why did you choose Northwestern?
I was actually looking for reasons not to come to Northwestern, but everything seemed to fall into place. The cross country team was on the rise and I really liked the coaching staff. My sister was going to be a junior here and was a having a good experience. I was intrigued at the idea of attending a Christian college after attending a large public school. When a reason finally came to not attend Northwestern, I made a split-second decision to stay committed and I took that as God telling me that I was supposed to be at Northwestern.
So far, what has been the best part of your Northwestern College experience?
One of the best parts has been getting to know a variety of people through cross country, classes, and dorm life – especially my roommates. It is great to have a group of people that you can go do random stuff with at any time, or you can just sit around and hang out.
What makes Orange City a great place to be?
Orange City has definitely been a different experience for me. I have learned a lot being in Orange City, with it just being a different cultural environment. I never experienced the small town environment or Dutch culture, so it is great to learn a little bit about them now.
What is something that makes your team special or unique?
The cross country team is definitely a unique blend of people. Everyone brings a lot of different things to the team and it makes for some good times. We have a ton of random things we do, such as our pre-meet in front of Steggy the day before a meet, or the singing that can break out at any point before, during, or after practice. Our rendition of Ocean Avenue by Yellowcard is pretty awesome. It is also impressive how much we have improved as a team over the years. My freshman year, we were picked to finish seventh in the GPAC, and this year we went into the conference meet with an opportunity to qualify for Nationals.
What's the best part about competing in the GPAC?
The GPAC is one of the best conferences in the NAIA in both cross country and track and field. Every meet you go to is going to have a high level of competition. Week in and week out you are practicing with and racing against All-Americans and even National Champions.
The unique part is that everyone values the competition and the opportunities to compete against each other and improve.
What advice would you give a high school athlete looking to compete collegiately?
Stay on top of academics. Academics will open up more options, regardless of what level you are looking to compete at. I would also say to make sure you are looking for a school that fits you. Also, I would say to stay patient. Don't let the process overwhelm you. It can be stressful, but the worst thing to do is let it affect your senior year of high school athletically, academically, socially, or emotionally.
What advice would you give the freshmen on your team?
First, I would say be patient. Coming into college is an adjustment from high school. Freshmen have a lot of new responsibilities to balance, and it can take time to get everything figured out. I would also say to be confident. Don't be afraid to mix it up with the upperclassman in practice or races. The little things are also important. Make sure you get enough sleep, you are eating healthy, and you are taking care of academics.
Who was your biggest role model growing up?
Alterraun Verner, a Pro-Bowl cornerback for the Tampa Bay Buccaneers. When I was in sixth grade, he was a senior on the high school football team. I went to every single game that season just to watch him play. My oldest sister ran track with him, and invited him to come to my birthday party and he actually came. He talked to my brother and I about the importance of academics and integrity, and since then, I have always tried to follow his example.
What's your favorite pre-race meal?
PB & J with a banana
Favorite movie?
Glory Road
Favorite book?
Into the Wild
Favorite TV show?
A tie between The Walking Dead and Avatar: The Last Airbender
What are your hobbies outside of your sport?
I love to play and watch almost any sport. I played basketball in high school, and have played hockey, baseball, and soccer in the past. Outside of sports, I enjoy hiking, watching movies or TV shows, or just hanging out with my friends and teammates.
Favorite place you've visited?
Every summer my family goes backpacking in Yosemite and it is always incredible.
What was your first job?
Working in a Dale Tiffany lamp shade warehouse in the repackaging department
What is your dream job?
Some sort of writer or analyst for a sports network