Ben Green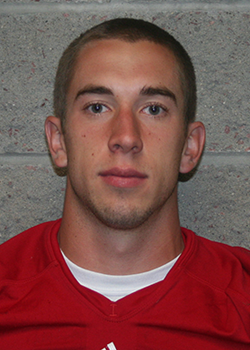 This week's Raider on the Radar is Ben Green, a senior wide receiver on the football team. As a junior last season, Green earned first team all-GPAC honors and ranked third in the conference with 56 catches for 882 yards. He also posted three 100-yard games and finished tied for fourth in the GPAC with 13 touchdowns. Through four games this season, Green has 21 receptions for 314 yards and four touchdowns.
Ben is a Sioux Falls, SD, native and he is an Exercise Science (pre-Physical Therapy) major.
Why did you choose Northwestern?
There are so many reasons that I chose to come to NWC, one of the biggest being that they had the major that I wanted to go into and that they were known nationally for their Exercise Science major. I also chose to come here so that I could play football in college, which was one of my dreams since I was a little kid.
So far, what has been the best part of your Northwestern College experience?
The best part of my NWC experience so far has been making all of these relationships that I am going to have for the rest of my life. The people that I have met here have played such a huge part in making me into the man that I am today, and I am so grateful to have the opportunity to know so many amazing people. If you are struggling with anything throughout your life, everyone on campus is so good about rallying around you and making you feel like God is in control again; that is the best part of my NWC experience so far.
What makes Orange City a great place to be?
I think that the biggest thing that makes Orange City a great place to be is that it has the real community feeling that everyone talks about. Everyone is so nice in Orange City no matter where you go, and a total stranger will ask you everything about your life as soon as you meet them. Everyone is so caring here and they really want to know about your personal life. If you go to a big city and really look at the way that everyone treats you, you will have a huge appreciation for the way that you are treated in Orange City.
What is something that makes your team special or unique?
I think that biggest thing that makes my team unique is the relationships that we build with each other. Even though we have the biggest team on campus, we are seriously all brothers and the stuff that we do around each other is so stupid and fun, but we don't care because everyone is doing it. Once you step on campus as a football player, you are part of the family and you are going to have brothers that are always going to be there for you no matter what you need or what you are struggling with.
What's the best part about competing in the GPAC?
One of the best parts about competing in the GPAC is how good the competition is; no matter what team we play, every week we know that we are going to have to bring it in order to come away with the win. Unfortunately, we have seen what can happen when you don't come out ready to play in the years I have been here, but it is always a learning experience and we know that we are always going to get our opponents' best no matter who it is. This makes the GPAC an amazing conference to be a part of and it makes it really enjoyable to come out and play every Saturday.
What advice would you give a high school athlete looking to compete collegiately?
My biggest advice would be to pick the sport that you love to play first and foremost. When you play a sport in college, it becomes your life and you need to love what you are doing every day in order to be successful in your future. Also, I would say work at everything with all that you have and put every ounce of energy into it that you can in order to get the best out of yourself.
What advice would you give the freshmen on your team?
My advice to the freshman would be pretty close to what I said above – work at everything as hard as you can because it will pay off. If someone says that you can't do something, show them that you can!! Also, enjoy the time that you have to be an athlete because my years as an athlete are almost over and I know that everyone says that time flies – and it really does. It seems like just yesterday I was coming into school for my first week and now I am halfway through my senior year. I am just starting to get hints of how much I am going to miss football, and you need to take advantage of the time you have so that you will have no regrets when you are done.
Who was your biggest role model growing up?
My biggest role model growing up was probably my grandpa. He was a great athlete and is such an amazing person, everyone that I talk to has only good things to say about him. That's how I want people to talk about me when I am that old. He provided for his family and really showed everyone what a Christian man should look like and how a Christian man should act at all times.
What's your favorite pregame meal?
Pizza ranch with the boys every Friday night
Favorite movie?
Lone Survivor
Favorite TV shows?
Chicago Fire and Chicago P.D.
What are your hobbies outside of your sport?
Hanging out with my family and friends doing absolutely anything, just laying around and watching movies with my fiancé, going pheasant and deer hunting and just doing anything outdoors
Favorite place you've visited?
Cancun, Mexico
What was your first job?
I was a sacker at HyVee.
What is your dream job?
My dream job would probably be to coach in the NCAA or NFL.