Arianne Gesell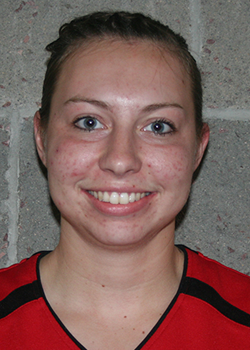 Arianne Gesell is this week's Raider on the Radar. Gesell is a junior on the women's basketball team. She has started all 20 games for the Raiders this season. She is averaging almost 9 points and 5 rebounds while shooting 66 percent from the field. Gesell scored a career-high 17 points in two contests this season.
Arianne is a Biology – Health Professions major with a Neuroscience concentration. She plans to attend Physician Assistant school after graduating from Northwestern. Arianne is from Fremont, NE, and is also a member of the Red Raider track and field team.
Why did you choose Northwestern?
I wanted to attend a smaller school with a Christian emphasis, strong academics, and a good basketball team. Northwestern had all of that and it was good distance from home at 2 ½ hours away. One of my friends from high school who is a year older than me came here and enjoyed it. On my visits, I appreciated the welcoming atmosphere on campus and how the girls on the basketball and in the dorms interacted. After evaluating all my options, I decided that Northwestern was the best fit for me and I haven't been disappointed.
So far, what has been the best part of your Northwestern College experience?
I have enjoyed so much about my experience, whether it is the friends I have made, my classes, my basketball experience or just my time on campus in general. Other than those things that I get to experience every day, one highlight would be a Summer of Service trip that I went on last summer. I spent 7 weeks working at a clinic in Bolivia and it was absolutely amazing. I really enjoyed the hands-on experience that I got and the relationships I was able to develop with my Bolivian coworkers. This experience will be one that continues to shape me throughout my whole life.
What makes Orange City a great place to be?
I really appreciate how much the community embraces the college and its students. The different churches and businesses are so welcoming to students. It is also great to see the community support in the stands at athletic events. I value this close connection between Orange City and NWC.
What is something that makes your team special or unique?
We have had a lot of great leaders and role models on the team that still encourage me today even though they are no longer on campus. The last two years, the upperclassmen have made a point of reaching out to everyone on the team and developing friendships that continue off the court. These relationships are awesome and bless me so much!
What's the best part about competing in the GPAC?
The best thing about competing in the GPAC is knowing you are going to be challenged every time you step on to the court. The conference is so strong from top to bottom that we have to bring our best game every night. This competition pushes us to continue to improve each and every day.
What advice would you give a high school athlete looking to compete collegiately?
Your work ethic is important. Be leader on your team on and off the court.
What advice would you give the freshmen on your team?
Keep working hard and make the most of this opportunity. Get to know your teammates and also to be positive role models on campus outside of basketball as well. Take advantage of the education you are getting.
Who was your biggest role model growing up?
Different members of my family were my role models. Some key figures were my parents and my cousin Nicole who played basketball at Wayne State College.
What's your favorite pre-game meal?
I like almost any kind of pasta.
Favorite movie?
She's the Man
Favorite book?
In these Girls, Hope is a Muscle, by Madeleine Blais
Favorite TV show?
Big Bang Theory
What are your hobbies outside of your sport?
I enjoy hanging out with friends, spending time outside, playing other sports, and reading.
Favorite place you've visited?
Bolivia, Washington, and Colorado
What was your first job?
My first job was working as a Playground Leader for Fremont's Park and Rec department. It was a blast! I got to hang out with kids every day and played more games of dodgeball than I could count. It was also neat to be able be a positive influence in their lives.
What is your dream job?
My dream job is working as a coordinator and leader for a kids program for underprivileged children.