Anthony Epp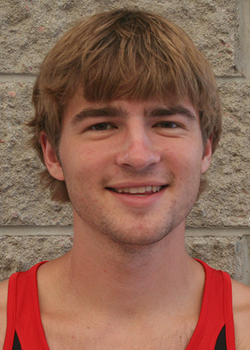 This week's Raider on the Radar is Anthony Epp, a senior on the men's cross country team. Last season, as a junior, Epp earned his third cross country letter and ran in all six races. He finished in the top 25 in two races last season, and he placed 66th at the GPAC Championship. This season, Epp has run in both races and finished 20th at the Herb Blakely Invitational in Madison, SD.
Anthony is from Giltner, Nebraska, and he is an Actuarial Science major.
Why did you choose Northwestern College?
I was looking for very specific criteria in a college. I wanted to go to a Christian school with Actuarial Science as a major, and be able to compete at the varsity level in Cross Country.
So far, what has been the best part of your Northwestern experience?
Having friends who suffer through workouts with you, being there when life gets tough, and having friends there to celebrate successes and enjoy college are the best parts.
Otherwise, Thirsty Thursday where guys in the North Suites gather at 10:30 a.m. to drink coffee, chat, and watch the Price is Right.
What makes Orange City a great place to be?
It's a small town in the Midwest.
What is something that makes your team special or unique?
We are a very close-knit group. Most other sports don't get to know their counterpart women's team. We stretch together, run our workouts in the same place, and practice for me begins the moment I leave my dorm at 3 and doesn't end until I'm done eating supper. We also have some fun traditions like our pre-meet chant in front of Steggy.
What's the best part about competing in the GPAC?
The GPAC is one of the best cross country conferences in the nation. The competition is not only at a high level, but most of the runners in the GPAC value the competition. They understand that the competition is what allows us to run our best. Without competition pushing us, we would never run as fast as we do.
What advice would you give a high school athlete looking to compete collegiately?
It is a major commitment. In the fall I'm in XC season, winter I'm in indoor track, and in the spring I'm in outdoor track. Even if you are only a one-season sport athlete and if you want to be very successful, you must train during the offseason because your competition does. Be involved in college through your favorite activities, but remember it takes a significant time commitment.
What advice would you give the freshmen on your team?
Keep working hard. It is very hard to go from a top dog in high school back to being a freshman. Sometimes a little work produces huge improvement and other times a lot of work only brings little or no improvement. Regardless, keep working hard. Preparation Precedes Performance.
Who was your biggest role model growing up?
I didn't focus on one person, but I saw what many people older than me did.
What's your favorite pre-race meal?
Spaghetti, a salad and Lucky Charms cereal
Favorite movie?
Star Wars
Favorite book?
Crazy Love by Francis Chan
Favorite TV show?
Avatar: The Last Airbender
What are your hobbies outside of your sport?
Yo-Yo, biking, and disc golf
Favorite place you've visited?
Lake Louise, Banff Alberta, Canada
What was your first job?
Watering 20 newly-planted trees at my neighbor's farm once a week for a summer
What is your dream job?
I want to be a professional cross country TV announcer and Analyst for ESPN.